Here are a list of Family Guy Episodes That Feature the Character Death (The Grim Reaper)
Death is a Bitch
(
http://ipodpspmovietv.weebly.com/death-is-a-b.html
)
In an attempt to avoid paying expensive hospital bill, Peter says that he is dead on hospital sign-out sheet. Later that night he visited by Death who has come to take him away. While chasing Peter down, Death twists his ankle and cannot fulfill his duties. So Peter must take his place.
Wasted Talent
(
http://ipodpspmovietv.weebly.com/wasted-talent.html
)
(PICTURE IS NOT ACTUAL VIDEO QUALITY)
Death reappears after "Death Is a Bitch" and it is revealed that he drives a Volkswagen Beetle. This part also reveals Death's face.
Also in This Episode: Peter becomes a master pianist as long as he's drunk.
Death Lives
(
http://ipodpspmovietv.weebly.com/death-lives.html
)
Instead of spending his anniversary with Lois, he decides to play golf. After being electrocuted, Peter is visited by Death who informs him Lois will leave him unless he has a revelation.
Mr. Saturday Knight
(
http://ipodpspmovietv.weebly.com/mr-saturday-knight.html
)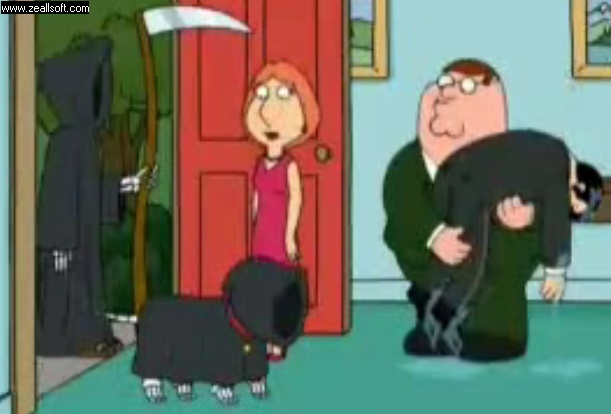 Peter Accidentally Kills his boss, So Death Arrives.Also in this Episode: Tired of being stuck at his dead end job, Peter decides to invite his boss, Mr. Weed, over for dinner in hopes that he we'll give him a promotion. Not long after Peter gets his promotion, his boss chokes on a roll and dies. After Mr. Weed's funeral Peter and his fellow factory workers are informed that the factory is being torn down. With some persuasion from Lois, Peter then decides to fulfill his lifetime dream of being a Renaissance Fair knight
Family guy Viewer Mail #1
(
http://ipodpspmovietv.weebly.com/family-guy-viewer-mail-1.html
)
A young Quagmire, in an argument with the young Peter over who was braver, bets Peter is too chicken to laugh Death in the face. Peter does this with extreme confidence, and Death, who is wearing a pro-smoking T-shirt, responds by saying 'Oh. Thanks. Like I don't have enough trouble fitting in'.
Also in this Episode: Three shorts based on viewer mail. In "No Bones About It", Peter is granted three wishes by a magical Genie. The Griffins become superheroes after being exposed to toxic waste in "Super Griffins". In "Li'l Griffins", a young Peter and Quagmire set out to spend the night in a haunted house to impress a young Lois.
The Perfect Castaway
(
http://ipodpspmovietv.weebly.com/perfect-castaway.html
)
Death Shows up when it looks like Peter, Cleveland, Joe and Quagmire are going to die
.
Also in this Episode: Peter gets rescued after being lost at sea for months, but comes home to find things have changed
.
I Take Thee Quagmire
(
http://ipodpspmovietv.weebly.com/i-take-thee-quagmire.html
)
Quagmire Fakes But Death Thinks He Did'int
Also In This Episode: Quagmire falls in love with and marries the Maid that Peter won on a game show only to find out that she's a psycho and must figure out a way to get out of it.
Meet the Quagmires
(
http://ipodpspmovietv.weebly.com/meet-the-quagmires.html
)
Death grants Peter's wish to go back in time to 1984 when he was 18.Peter ends up bailing on a date with Lois to hang out with a movie actress. When he returns to the present, he soon realizes that everything is but normal, as he is now married to the former actress, and Lois is with Quagmire.